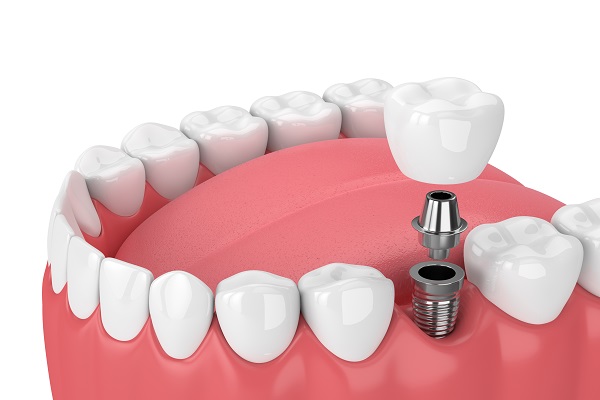 Dental implants are increasingly becoming the go-to option for replacing a lost tooth or teeth for the right patients. Anyone can lose a tooth, whether it's due to blunt force injury, disease, or gradual tooth decay over time.
What are dental implants?
If you haven't lost a tooth (and you aren't a dentist), you may not even know what a dental implant is. Essentially, implants are replacements for the root of the tooth—not the tooth itself. Dental implants are small, metal implants implanted into your jaw bone.
The implant acts as a kind of anchor for an artificial tooth. And, because the implant actually "fuses with your jawbone," it serves as a powerful anchor and a welcome alternative to other, less sturdy replacements.
When are they recommended?
The implants are placed during a surgical procedure. The procedure is relatively straightforward and performed as an outpatient ("same day") operation. However, like with any treatment, there are reasons why the procedure may not be right for you.
Suitable candidates
Of course, to be a candidate for implants, you need to have a missing tooth or teeth. There is simply no other indication for the procedure.
Furthermore, the patient needs to be healthy enough for the procedure. Any surgical procedure carries with it certain risks and complications, including infection. Your dentist and a team of other specialists will evaluate you to ensure that you are cleared for this type of procedure.
There are multiple reasons why someone may not be the right candidate. For example, smokers may not be suitable candidates for dental implant surgery. Further, the patient needs to have relatively healthy gums and enough bone to hold the implant. Without healthy gums or solid bones, there is an increased chance that the implant might fail.
Time commitment
While the procedure only takes a matter of hours, there is a substantial time commitment before and after the procedure and a requirement that you practice excellent dental hygiene. Some patients may not have the time or inclination to devote so much time to the procedure and may opt to pursue simpler alternatives.
Before the surgery, you'll need to meet with multiple specialists, including your family dentist, oral/maxillofacial surgeons, healthcare providers who may need to evaluate and clear you for surgery, and more. This can take time.
After the surgery, you'll likely need to allow several months for the healing process. You need to give your bone enough time to grow and create a base around the implant—to fuse. This patience will pay off, as the implant will ultimately be anchored to your jawbone, providing a sturdy base for the artificial tooth.
An effective alternative to dentures
Many family dentists are recommending l implants as alternatives to the more traditional dentures. Most everyone has heard of dentures—removable artificial teeth that you need to slip in and out multiple times a day.
Despite the time commitment required, implants have a lot of advantages over dentures and other treatments. The implants are a more permanent, long-lasting solution, which doesn't require constant management. Further, successful implants can help improve comfort while eating and speaking. It's important to note that they are also reported as having an extremely high success rate among patients.
Request an appointment here: https://drsykes.com or call Robert S. Sykes, DDS at (770) 873-7241 for an appointment in our Marietta office.
Check out what others are saying about our dental services on Yelp: Dental Implants in Marietta, GA.
---
Related Posts
May 1, 2023
Dental implant placement requires a period of recovery. Understanding the expected amount of time that it takes to recover and learning useful tips on how to help your mouth heal faster are …