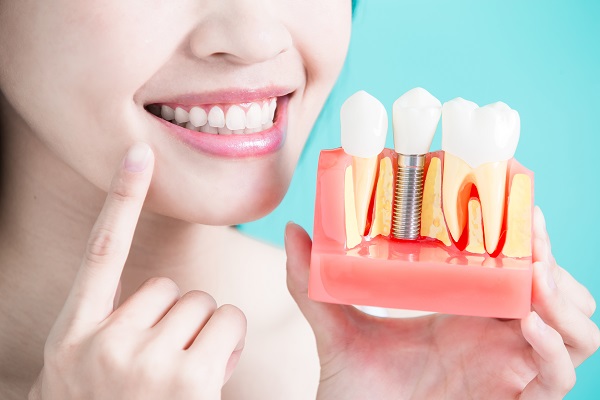 Choosing dental implants is something many people are doing nowadays, as this tooth replacement option is one that offers benefits that no other replacement option can. According to WebMD, there are many advantages to dental implants, including improved appearance, improved speech, improved comfort, improved self-esteem, improved oral health, easier eating increased durability and convenience.
How implants are placed
Learning how dental implants are placed is important, as it is a multiple month-long process. Implants take the place of a tooth's root, creating a strong foundation for the replacement tooth. The implant needs to be surgically inserted into the jawbone, which takes about an hour to perform and anywhere between two and five months to heal. In order for someone to be considered a candidate, they must have good oral health and be in good overall general health.
Caring for implants after placement
It is essential for those who choose implants as their tooth replacement option to perform basic tooth care responsibilities, as well as a few additional oral hygiene care obligations. The list below includes information on what it takes to properly care for new dental implants.
Brush teeth at least twice a day
Brushing all teeth at least twice a day using a soft-bristled toothbrush and a non-abrasive toothpaste helps to keep dental decay at bay. It is necessary to carefully and gently brush under and around the crown, as this ensures that there are no food particles left in the mouth that can potentially cause problems. An interdental brush can be used for those who find it difficult to use a regular toothbrush to thoroughly clean their mouth.
Floss teeth at least once a day
Flossing all teeth is necessary, as this dental care hygiene responsibility is one that removes any food particles that may be stuck in between the teeth. Unwaxed dental floss works better than waxed floss, with another option being choosing a floss that is specifically made for dental implant oral hygiene care. The fact that flossing needs to be performed correctly as it can shred implants, makes it necessary for those who choose implants to follow their dental professional's directions for proper use of floss.
Use an oral irrigator
An oral irrigator is also called a water flosser, which is an oral hygiene device that uses pressure to clean hard to reach areas in or around the implants. The goal of using this oral hygiene care device is to remove any food particles that are hard to remove using floss, as well as helping to remove any plaque existing on or near the implant. Using an irrigator tends to be very effective in minimizing gum disease, as they can clean all surfaces of the implant crown, as well as clean underneath the gumline.
Ready to take the next step?
Are dental implants the right choice for you? Now that it is understood how implants work, how they are placed, as well as how to care for them, those who are considering dental implants know more about what to expect. The next step that now needs to be taken is making a consultation appointment with a dental professional, as this allows patients to understand the process, which includes an overall timeline for the process.
Are you considering dental implants in the Marietta area? Get more information at https://drsykes.com.
Check out what others are saying about our dental services on Yelp: Dental Implants in Marietta, GA.
---
Related Posts
May 1, 2023
Dental implant placement requires a period of recovery. Understanding the expected amount of time that it takes to recover and learning useful tips on how to help your mouth heal faster are …