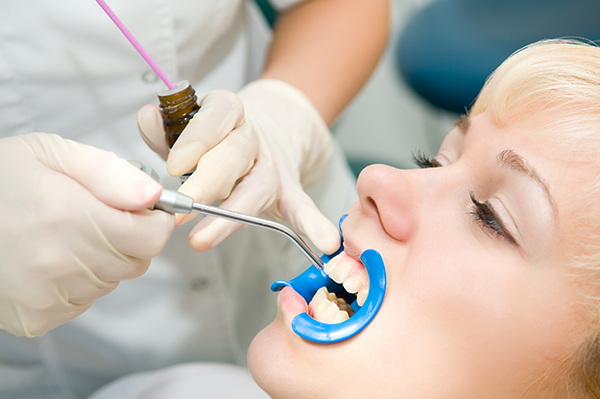 In our Marietta cosmetic dentist office, we can restore your teeth using dental veneers and dental bonding. We find that regardless of how hard you try to protect your teeth, there are certain issues you cannot prevent. For example, you cannot prevent your tooth from cracking when you bite into a piece of hard candy. You cannot prevent accidentally chipping your tooth when you play softball at your family reunion. Still, these simple activities often put your teeth at risk for becoming cracked, chipped, or otherwise damaged. When this happens, you do not need to worry, but you do need to seek out an immediate dental restoration. The sooner you seek out immediate dental restoration, the better chance you have at not experiencing unnecessary discomfort and decreasing your risk of getting a subsequent infection.
We can immediately help you by restoring your tooth. Two of the solutions we use to do so are dental veneers and dental bonding. Both can achieve similar goals, but the procedures are completely different. With dental veneers, we will be placing a thin porcelain shell on the surface of your teeth. As long as you do not mind that we will need to remove the enamel and require you to wear temporary veneers, this is a good solution. Once the dental veneers are in place, they can give you a gorgeous looking smile for years to come. However, if you need a solution that is good for sensitive teeth or a solution that we can complete quickly, dental bonding is the right solution for you.
The interesting thing about dental bonding is how few people know about it. If you damage a tooth or simply do not like how it looks, dental bonding will help the tooth to look much better. In this procedure, we prepare the teeth by simply roughening them up and by using a moisturizing solution. This means your enamel will remain intact, so the entire procedure is non-invasive and perfect for sensitive teeth. Once the teeth are ready, we will apply the bonding material to the teeth and shape it on the tooth. We will then harden the material in place for a durable and beautiful restoration. This is an excellent solution that looks as good as it feels.
Which one is better, dental veneers or dental bonding?
This is a personal decision that has to be made after we have examined you and taken X-rays. Both solutions work for improving the appearance of your teeth and for correcting any aesthetic issues. If you are on a time crunch or have sensitive teeth, you will greatly benefit from scheduling a bonding appointment. Dental bonding is the only restorative solution that we can complete in one appointment outside of CEREC. Dental veneers, on the other hand, are more durable and are well-respected for creating long-lasting, beautiful smiles. In fact, dental veneers are what most Hollywood stars use to improve their smile. Just remember that this is not a race to the finish line, but solutions with long-term implications. To learn more, call and schedule an appointment with our Marietta dental office.
---
Related Posts
January 7, 2021
Dental veneers are a great option to consider when looking to hide imperfections. When there are flaws or blemishes on the teeth, people are less apt to smile. However, with the help of dental veneers, …
---