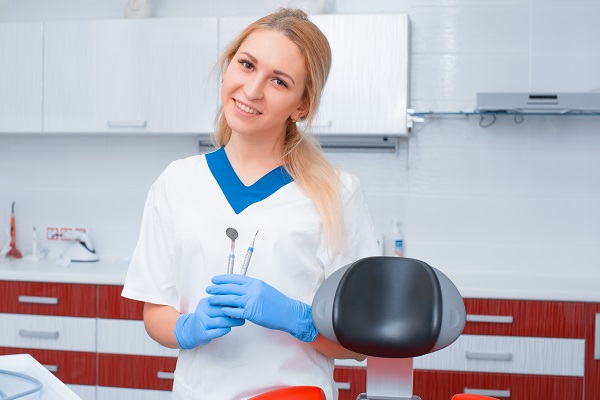 The implant dentist you choose can have a major impact on your overall experience and the long-term results of your dental implant procedure. Every implant dentist has a unique process and a different experience level and finding one that meets your specific needs and preferences can help make the process much more convenient.
Tips for finding the right implant dentist
By putting in the time to find the right implant dentist, you can ensure you choose the one that is right for you. Several tips for finding the right dentist for your dental implants include considering the number of years the dentist has been in practice, checking online reviews, and asking people you trust for a nearby referral.
Consider the experience
This may seem like a no-brainer, but learning more about the experience level of an implant dentist is essential. More specifically, understanding effective ways to find out how experienced a particular dentist is with implants is important.
One effective way to get an overview of an implant dentist's overall experience is to check the number and quality of reviews (see below) through an online search. You can go deeper, however, by determining how long the dentist has been in practice and how long they have offered dental implants as a service.
Check the reviews
Reviews do not give a complete idea of the quality of an implant dentist, but they can give some insight into their experience level. A dentist who has more reviews and a high overall review score is likely to provide quality service, whereas an implant dentist with fewer reviews and a low score may be less reliable. Choosing a dentist that has good reviews can help patients feel more confident with their treatment, although scheduling a consultation to ensure they are the right voice is important as well.
Ask for referrals
Referrals are a reliable way to find qualified implant dentists. Online reviews are helpful, but you are less familiar with the reliability of the person leaving the review as you do not know them personally. With referrals from friends, family members, neighbors, coworkers, and others that you know and trust, it gives more confidence that their experience will be similar to the one you have.
Schedule a consultation
After you narrow down your list of potential implant dentists to two or three options, the final step is to arrange for a consultation visit. Start with the implant dentist you are most interested in, and you may only need to visit one dentist if you are happy with the way the first consultation goes.
Looking for a dental implant dentist?
We strive to give every patient high-quality care and friendly service, assisting them through each step of the treatment process, and answering any questions they have along the way. If you are considering dental implants to replace one or more missing teeth, then contact us today for more information.
Request an appointment here: https://drsykes.com or call Robert S. Sykes, DDS at (770) 873-7241 for an appointment in our Marietta office.
Check out what others are saying about our dental services on Yelp: Implant Dentist in Marietta, GA.
---
Related Posts
March 10, 2022
Looking for an implant dentist? Implant dentists help patients with one or more missing teeth. An experienced implant dentist ensures the implant process is safe and effective for all patients, communicating with …