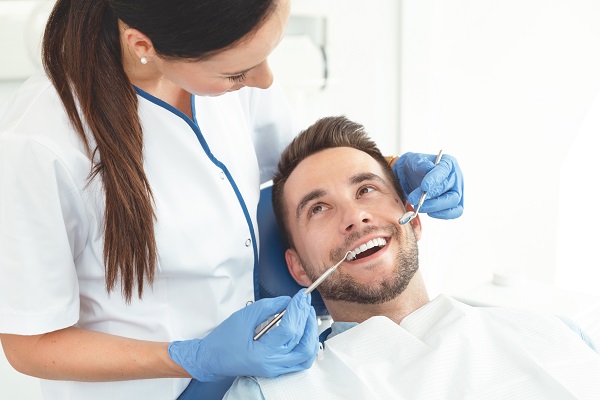 Wondering whether a family dentist can see adults? Some dentists only treat certain ages, which means they only treat children or they only treat adults. Family dentists are dental professionals who can treat patients of a wide range of ages.
About family dentists
Looking for a new family dentist in Marietta? When someone is in need of a new dentist, it is necessary for them to learn more about any dentists they are considering choosing as their primary dental care provider. Family dentists tend to be a popular choice, as they can treat any age. This type of dentist is one that offers their patients necessary primary care dental services, essential restorative dental services, and important cosmetic dental services, making them a very versatile type of dental professional.
Common reasons adults are seen by a family dentist
The list below goes over some of the more common reasons adults need to be seen by a family dentist for treatment.
They are experiencing oral pain
One of the more common reasons why adults will make an appointment with a family dentist is because they are experiencing some type of oral pain. Dental and oral injuries, dental infections and dental decay are some of the more common reasons why adults would experience oral pain. Oral diseases and gum sores can also be the reason for experiencing oral pain. When it comes to how family dentistry treats oral pain, it depends on the cause. Common treatments include filling cavities and root canal therapy.
They want to improve their smile
The fact that there are many cosmetic dental options available nowadays due to new and improved dental technologies means that there are more cosmetic options available now for improving a patient's smile than ever before. Many cosmetic procedures only require patients to make one, two, or three dental appointments, making it easier than ever for patients to undergo one or more dental cosmetic procedures in order to improve the way they look when smiling.
It is time to undergo a dental checkup
Dental patients need to make regular dental checkup appointments in order to ensure their oral health is in good shape. While the rule of thumb is to make a dental checkup appointment every six months, some dental patients will need to be seen more often and others will need to be seen less often. Dental checkup appointments are essential when it comes to making sure a patient's oral health is in good shape and requires them to undergo a professional dental cleaning of their teeth.
Looking for a family dentist?
Now that the above information has been read, it is understood that family dentists can indeed see adult patients. In fact, this type of dentist is one that can treat patients of a wide range of ages, making them a great choice. Seeing a dentist on a regular basis helps ensure one's good oral health.
Request an appointment here: https://drsykes.com or call Robert S. Sykes, DDS at (770) 873-7241 for an appointment in our Marietta office.
Check out what others are saying about our dental services on Yelp: Family Dentist in Marietta, GA.
---
Related Posts
July 15, 2020
Family dentists are certified general dentists who specialize in treating patients of all ages, including children and adults. Because family dentists focus their efforts on general dentistry care, they are often tasked with diagnosing and …