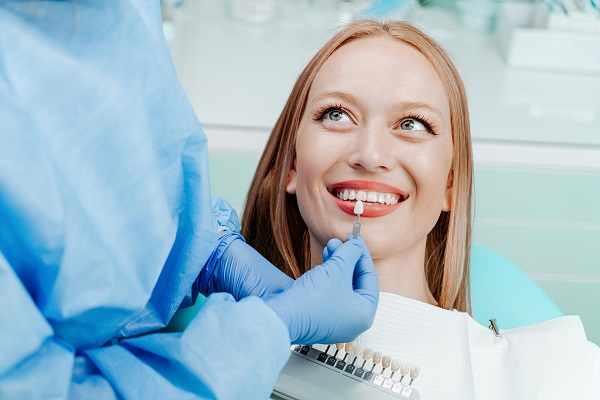 Cosmetic dentistry is a form of treatment that aims to improve the appearance of your smile by addressing imperfections with the teeth, gums, and jaw. Many procedures also offer oral health and functional benefits as well. This article discusses the ways in which cosmetic dentistry can help you achieve a more attractive smile.
3 Reasons to consider cosmetic dentistry treatments
There is a range of treatment options available to patients who seek cosmetic dentistry, including tooth-colored fillings, tooth-colored crowns, dental bonding, porcelain veneers, tooth replacement, and much more. The following is a detailed discussion of why a dentist may recommend cosmetic dentistry treatments to patients looking to improve their smile.
1. Fix various forms of tooth damage
Tooth damage can occur due to a number of reasons. From enduring a blow to the face during a sporting event to chipping a tooth on ice or as a result of bruxism, cosmetic dentistry can repair most instances of damaged teeth. This includes chipped or cracked teeth, teeth that are worn down from grinding, damaged enamel, and more. The most common cosmetic dentistry procedures to repair tooth damage are dental bonding, porcelain veneers, tooth-colored fillings, and tooth-colored crowns.
2. Create a straight and even smile
Many dentists also provide teeth straightening treatments as part of their cosmetic dentistry services. Most commonly, this includes orthodontic treatments such as braces and clear aligners. Patients with mild misalignments may be able to create a straighter smile with porcelain veneers, as well. Dental veneers, composite bonding, and tooth-colored crowns also offer a way to address teeth that are too short and misshapen, helping the patient achieve a more symmetric smile by lengthening the appearance of teeth.
3. Replace severely damaged or missing teeth
Missing teeth can not only lead to oral health concerns such as bone loss in the jaw, but it also makes many patients less confident about their smiles. Consequently, cosmetic dentistry treatments often include tooth replacement options, as well. Notably, the tooth replacement options typically offered by dentists include partial and complete removable dentures, fixed bridges, and dental implant restorations. The best method to address missing teeth depends largely on the number of teeth that are missing and the patient's treatment preference.
Additional benefits of cosmetic dentistry
Cosmetic dentistry can also address cosmetic concerns involving the gums, such as a "gummy" smile. This is often addressed through gum contouring procedures. Patients with eroded enamel may benefit from a gum graft procedure. A bone graft procedure may also benefit the patient's appearance by making the jawbone look fuller. Of course, every dentist has their own list of services that they offer, so discussing available treatment options with your dentist is important.
Are you considering cosmetic dentistry for an improved smile?
If you have imperfections with your smile that you would like to address through cosmetic treatment, then contact our dental practice today. We can provide a personalized cosmetic dentistry treatment plan to help you achieve a smile that you will be proud of.
Are you considering cosmetic dentistry in the Marietta area? Get more information at https://drsykes.com.
Check out what others are saying about our dental services on Yelp: Cosmetic Dentist in Marietta, GA.
---
Related Posts
April 2, 2021
Cosmetic dentists aim to address issues that affect the appearance of a person's teeth. The look of a person's teeth is one of the first things that others notice about them …